MALABA: NO INSTRUCTIONS FROM LILANGA
After Afrum published the article Lilanga: The Fraud of the Millenium, the German online gallery Shikra asked on itīs webpage: Would some of the worlds leading auction houses such as Sotheby's e.g., allow themselves to be tricked over a period of decades? Wouldn't their teams of experts have become just a little suspicious if there was a feeling that the artworks weren't from Lilanga?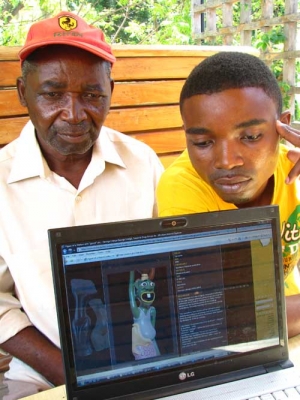 Agustino and Vinta Malaba with the Shikra website (www.shikra.de) which is selling their artworks. They say they did not get any instructions from George Lilanga as it is stated on the Shikra. Read the statement from Malaba family.
To see the sculptures and the catalogue numbers, go to shikra.
Catalogue Number - 49-110: Si order kutoka Lilanga, wazo yetu. Ilipelekwa kwa Lilanga. Alituambia usifanye hiyo madoyodo, urembo kwenye kanda, inatusumbua wakati wa kupaka rangi. Kinyago imechongwa na Vinta lakini imemaliziwa na Malaba. Malaba alichonga chini kabisa.

This was not order from Lilanga, it was our idea. He told us that we shouldnīt do those small decoration around the waist. The sculpture was carved by Vinta but finished by Malaba. He carved the section down.

Catalogue Number - 49-111: nilichonga mwenyewe, mtu alichukua mbuzi (Malaba). Ilichongwa kabla ya Lilanga amefariki, kabla ya kukata miguu. Wakati nimechonga alikuwa hospitalini. Alikaa pale 1 moja na mwezi 2. Ilikuwa Muhimbili odi ya maesela. Nilichonga kwa sababu idea yangu, si maelekezo kutoka kwa Lilanga. Hatujapata maelezo kabisa. Tulisigni jina la Malaba, si signi ya Lilanga, Lilanga alikuwa hospitalini. Alilipa mama pale nyumbani kwake.

It was me who carved this sculpture, the person who carries the goat (Malaba). It was carved before Lilanga died, before hi lost his legs. During the time I have carved it he was at hospital. He stayed there 1 year and 2 months. It was at Muhimbili odi ya maesela. That was my idea, not that of George Lilanga. I have not get any instructions from Lilanga. That carving we signed as Malaba. We have given it to Lilangaīs wife.

Catalogue Number - 49-112: Vinta alichonga juu, mzee alichonga chini. Tunashirikiana. Ilikuwa kabla ya Lilanga bado hajaenda hospitalini. Alikuwa uhai. Ilikuwa ni wazu letu ya kuchonga kile kinyago. Lilanga hajatupa wazo. Hajawahi kusema chonga hii au hii. Hii si order. Ilikuwa wazu letu, badaye Lilanga alisema hii ni nzuri au mbaya sababu wateja walipenda. Lilanga hajachonga wala wanyama na watu. Mashetani tu. Alichonga vidole tofauti. Sikumbuki mwaka. Hatujasigni

Vinta carved up and Malaba carved down. We cooperate like this. It was before Lilanga went to hospital (more than 1 year he stayed there). Lilanga did not give us instructions. He didnīt tell us to carve this or to carve that. This was not an order. It was our idea. After Lilanga used to say this was good or this was bad depending on the taste of customers. Lilanga didnīt carve people or animals. He could carve only Shetanis. He carved different fingers than we. I donīt remember the year when we did it. This carving we didnīt sign.

Catalogue Number - 49-113: alichonga Vinta, alipaka noeli, Ilikuwa si order, Wazo ya Vinta. Nilichongea shambani Chanika. Ilikuwa rahisi kupata miti. Haijakuwa mara nyingi kwenda Chanika. Nilichonga kwa ndugu zangu. (Joakim Mpyuka, Michael Mpyuka – watoto wa kaka yangu – Malaba. Lakini wale ndugu hajashika kazi ya Lilanga. Nilisigni na patasi ya V kama Vinta. Badaye mimi nilipelekea kuuza kwa Lilanga.

This sculpture carved Vinta and painted Noel Kapanda, it was not order. It was idea of Vinta. I (Vinta) have carved this sculpture at Chanika (part of Dar es Salaam) because there it was easy to get wood. It was not often we have carved at Chanika. I have relatives there (Joakim Mpyuka, Michael Mpyuka – children of my Malabaīs older brother) Those relatives didnīt carve Lilanga. I have signed this sculpture as Vinta and then I sent it to Lilanga

Catalogue Number - 49-114: Nilichonga mimi Vinta pamoja na baba ndogo Costa Ilali (Ninanwita Kapelo). Tulichonga pamoja. Tulichonga nyumbani kwa Malaba. Ilikuwa mawazo yangu na Kapelo, si order ya Lilanga, tulimwuzia too. Walipaka rangi kwenye lilanga studio, hatujui nani. Kipindi tulishamwuzia alishakata miguu. Hatujasigni sisi chochote.

This sculpture was carved by me (Vinta) and younger brother of Malaba Costa Ilali (Kapelo). We have carved it together at home. It was my and Kapeloīs idea to carve this, it was not order from Lilanga (Notice: Lilanga ordered many works especially if some individual carvings were sought after on the market). It was painted at Lilanga studio. It was during the time Lilanga lost his legs .We have not signed anything

Catalogue Number - 49-115: Mimi Mzee Malaba nilichonga. Mama ni mganga na allimshika mtoto. Alijifunga kiremba cheupe. Mgonjwa ni mtoto ndogo na watatu wengine ni wasaidizi wa Mganga. Nilipata wazo sababu watoto wanapata matatizo sana na daktari hawaelewi. Akina mama waganga wana uwezo kufahamu mtoto anauma nini. Na mama huyu ni mganga. Ni nzuri. Yule mama anafahamu zaidi. Ile wazo nilimwelekeza kwa Lilanga. Na alijua too sababu yeye ni msanii. Hajauliza sana, alibuni wazo wetu. Ninafikiri nimesigni chini lakini sina hakika

I have carved this sculpture (Malaba). That mother is actually a witchdoctor and she holds a child. That child id sick and other people (Children) are helping the mother. I got the idea because children are often sick and the doctors canīt help. But the mamas witchdoctors do understand their children when they are sick. And this mama is mganga. It is good. That mother understands more .This idea I told to Lilanga. And he understood because he was also an artist. He didnīt ask us too much, he just understood. I think we have signed on the bottom but I donīt remember.

If you wish to read more articles you may do it on Afrumīs George Lilanga Project
You may also visit a website www.lilanga.org dedicated to the artists who have made the Lilanga art
Author: Daniel Augusta