THE MYSTERY OF NAFASI MPAGUA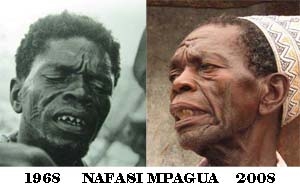 IS IT HIM?
Sometimes in the beginning of this year – 2008 – I got a visit. The sculptor Mathias Nampoka was my guest. He is the son of the sculptor Everist Nampoka. While he was looking in the book Makonde written by Jesper Kirknaes, I asked him if some of the sculptors described in the book are still living. (the book was written in sixties or seventies).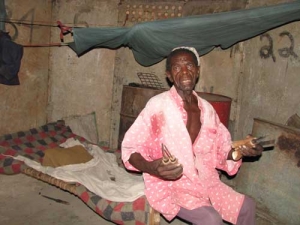 Nafasi Mpagua at his metal hut in Kibaha
"Yes", answered Mathias. "I know Nafasi Mpagua". He is not living far from me in Kibaha. He is alone, his family left him. He might be 80 years old. He used to come to me to ask for some money. I give him sometimes 1000 or 2000 Tsh (ca $1)". Some hours after our meeting Mathias Nampoka called me: "Daniel, come!. Nafasi has fever and I don´t know how long he will live".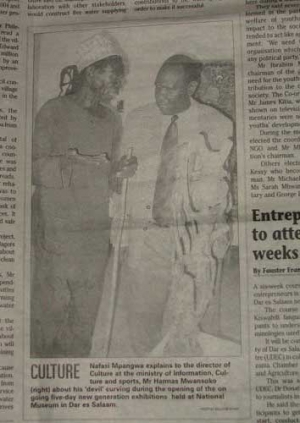 Nafasi Mpagua talking to Tanzanian Minister of the Culture in May 2007
I came next day. I took photos. I made short interview. Though his health was not well he carved a sculpture for me. He doesn´t see well. He was living in a metal hut. And rightly – he was alone. Many people doubt that he is still living. I can only say that the tattoos on his face correspond to those in the book of Jesper Kirknaes. Jesper Kirknaes agreed that it was Nafasi Magua when I showed him ca 20 photos. Also Nafasi Mpagua was at the exhibition in Tanzania last year 2007 in May. He was captured by one photographer while talking to Minister of Culture.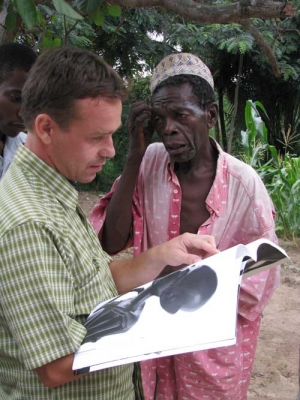 Nafasi Mpagua askes me to find Mr. Kingdon while looking at the book "Makonde"

Author: Daniel Augusta