LILANGA: THE FRAUD OF THE MILLENIUM
To read the article Lilanga: the Fraud of the Millenium scroll down. I have been surprised how much interest this article and the website www.lilanga.org caused. Therefore it is important to give more background and explanation.
to read more articles on George Lilanga go to Afrum´s George Lilanga Project
See also Afrum´s profiles of George Lilanga and Noel Kapanda

1. First of all I respect George Lilanga and his work. He was the founder of the style which gave the world great art and relatively stable employment for a quite considerable number of artists here in Tanzania. I don´t regard him as a cheater, I explain this in the point 2, 3 and 5.

2. My aim is to show the many other great Tanzanian artists who have been totally neglected on the many exhibitions and books around the world. In fact they were called as fake-doers, they were sent to court. It has gone so far than Agustino Malaba got a visit by policemen who asked him to stop to work. The aim of my articles is to balance the Lilanga story and say: "the Lilanga art was rather a collectively created art while passing the Lilanga studio than the art work of an individual". Actually the sales were regulated by George Lilanga himself and therefore it is wrong to talk about the other artists as fake-doers. They did what George Lilanga has ordered from them. I want to take away that label from these artist, I don´t want to put a new label on George Lilanga.

3. The art of George Lilanga was performed on different mediums and different materials. George Lilanga could be skilful in some techniques while less adept in another one. The statement of Hendrick Lilanga demonstrates it: "My grandfather was good in cutting calabash while he had problems to accomplish an oil painting".

4. Obviously George Lilanga did not master the oil paintings. So the formulation "no single painting" in the article refers to the oil paintings. I don´t know what could be an accepted academic proof of this statement but my claim is based on the discussions with artists such as: Agustino Malaba, Robino Ntila, Hendrick Lilanga and many others. Also I lead the Tingatinga Arts Cooperative Society with around 80 painters and there was and still is a frequent "traffic" between the "Lilanga" artists and "Tingatinga" artists. We have relatives of Lilanga here at Cooperative, Vinta Malaba comes here still today to sell the art, we had Mchisa, Mchimba…etc. The Lilanga matter is discussed in between artists here even without my questioning.

5. The "trademark" Lilanga was created by coincidences rather than by planned efforts by George Lilanga himself, therefore I don´t see him as a cheater. It could start like this: the artists in Tanzania work very much collectively. I have seen as many as three artists painting one painting here at Tingatinga Cooperative. It could be so that George Lilanga did calabash cuttings. Then Noel Kapanda painted the oil painting with the similar design as Lilanga did on the calabash. And because it was Lilanga´s design they put the Lilanga sign. Maybe some buyer could even ask them to do this. Then it was all exhibited under Lilanga name and the "trademark" was established. After the exhibition George Lilanga gets more orders and they feel they should sign all artwork made by Noel Kapanda as Lilanga. In fact Kapanda, Malaba and Lilanga took this decisions together, it is not any secret. Later the number of orders, exhibitions and books grew and they were "locked". In fact this is one of the most exciting challenges – to understand how the "legend" was created.

6. My research is more passive than active, more hobby than an academic one, driven from interest to show other hard-working artists than to disregard the originator. I respect the academic world, I respect the galleries and all art lovers. If I use the formulation "how the world was cheated" I merely want to draw attention to our lack of knowledge than to look down on anybody. It is not a task of the galleries or art-lovers to double check all facts. Personally I can only say that I was surprised how little interest the art dealers showed to visit the "field". Most of the "business" was a "parcel" business, not "face to face". Many mediators were employed. Occasionally some visited the Lilanga studio but that was all. It is why I found it a very interesting subject to write about. I thought simply people will be interested to learn, to read, to hear.

7. I was surprised that some people dealing with Lilanga even didn´t heard about Noel Kapanda. By some mistake or miracle he was never presented on any exhibition or book here in Tanzania. As you can read later he was a brother of the well known Damian Msagula. He visited Japan on 7 occasions. He lived in a collective house with Sister Jean and other artists (Ntila, Malaba etc). I was puzzled he was almost unknown to the established art community here in Dar es Salaam (Galleries, Museums, Universtiy etc). Though I visited him at his house ca 5 times during 2-3 years he never told me anything about his role in Lilanga art. I was the one who was most surprised when I was told about his role. I didn´t believe he was involved in paintings. I knew he painted the sculptures. I knew him well because he I love paintings of Damian Msagula, who was his older brother. I visited him because of another interesting story. He had 27 years old post card from Sweden. We knew only the name of the sender who then was a young teacher. I found her in Stockholm and she came the whole way to Tanzania after 27 years to visit Noel Kapanda again! We wrote a nice article about it in HABARI newspaper in Sweden. Also I visited Kapanda because Max Kamundi painted in his small house when the two gentlemen were left by their spouses at the same period. So Kapanda was not in my focus. I was shocked when I asked him about his role in Lilanga. He then took up the paintings (shown on the photo) from his sleeping room and showed them to me. They were in his house while I have visited him in almost three years! He told me he keeps them as a memory. They were painted shortly after Lilanga´s death. I wrote the article "the Fraud of the Millennium" directly after visiting him still feeling excited. Today I would formulate myself in another words but the message would be the same. Namely "Lilanga did not master the techniques of oil paintings, it was done by Noel Kapanda (and later by other artists)"

8. I am aware the reality is more complicated and I am ready for new surprises, changes, revisions, ideas, theories. To write an article like this implicates responsibility for the outcomes on the market, exhibitions etc. I have seen that some of the sculptures were already "renamed". Some even bear two names such as "Lilanga" and "Malaba". Completely "new" Lilanga artists are "discovered and sold" on eBay such as "Karinto" even if Karinto did not carve any more figure for the new market. (The point is that all the Lilanga artists called me because they lost the jobs) So my articles had I hope some effect on making the other artists more visible. But unfortunately I am still alone who is visiting the field. I would be happy if some professional art journalists could take up this story. I don´t know the academic terms, the formulations etc. But I have put down the facts, ideas, theories and collected some information, just enough material for any scholar who wants to get an interesting subject for his/her research.
"Lilanga: the Fraud of the Millennium"
(These notes in Italic style were added on 17th April 2009) :
It is now established that George Lilanga did not paint any single painting (a strong statement but this is what we say here in Tanzania. With some effort he maight paint a single, two or few paintings). He simply did not know how to paint. (the oil paintings) The man who created the great art is Noel Kapanda. He was the right hand of George Lilanga. He even traveled with George Lilanga to Japan where he used to paint when George Lilanga was asked by the Japanese host. Actually the Japanese later discovered that George Lilanga couldn´t paint at all. (The Japanese story is popular among the artists here in Tanzania, I did not check but the names are available and could be used to proove it)
Also Noel Kapanda told me stories about how he used to "escape" whenever any art dealer was about to visit Lilanga´s studio. Actually Noel Kapanda worked in Lilanga´s studio every day in the period of 6-8 years. Noel Kapanda was also a teacher. He taught for example Hendrick Lilanga how to paint Lilanga art. All the earlier works are painted by Noel Kapanda. Noel Kapanda told me that he tried to teach even George Lilanga but he failed again and again.
This information is checked (I meet the artists in my free time, at their studio. All has told me the same information independently) I welcome any Lilanga expert to chalenge this information. (I would like to see more interest from other parties to make more research)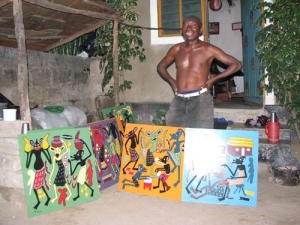 This picture is taken on 21st February 2009. Noel Kapanda kept these paintings for memory. They were painted short after Lilanga´s death. Noel Kapanda showed me the paintings only after I started to speak about Lilanga matter. It feels as if he was "hiding" the paintings and the truth about the history of one of most famous African painters.(see point 7)
HOW MUCH WAS THE WORLD CHEATED? (see point 6)
SOLO EXHIBITIONS
1994 - "Lilanga's Cosmos" - Okariya Gallery, Tokyo, Japan

1995 - "Lilanga's Artist in Residence and Workshop" - Hiroshima City Moderne Art Museum, Hiroshima, Japan
1999 - "Georges Lilanga : Storie Africane" - Franco Cancelliere Arte Contemporanea, Messina, Italy

- Fabbrica Eos, Milano, Italy

2002 - "Georges Lilanga" MAMCO, Geneva, Switzerland
2003 -" Lilanga d'ici et d'ailleurs" - Centre Culturel François Mitterrand, Périgueux, France
- "George Lilanga" - Christa's Fine Tribal Art Gallery, Copenhague, Denmark
2004 - "Tingatinga and Lilanga" - Kouchi Prefecture Art Museum, Kouchi, Japan

GROUP EXHIBITIONS

1974 - National Museum, Dar Es Salaam, Tanzania
1976 - National Gallery of Botswana, Gaborone, Botswana
1977 - Goethe Institut - Dar Es Salaam, Tanzania
1978 - Marykoll Ossining Centre, New York, USA

- IMF Hall, World Bank, Washington, USA
1979 - National Museum, Dar Es Salaam, Dar-es-Salaam, Tanzania
1981 - "International Summer Academy", Salsburg, Austria
1983 - National Gallery, Harare, Zimbabwe
1984 - "International Summer Academy", Salsburg, Austria
- "Arts & Crafts Center", Dar-es-Salaam, Tanzania
1985 - Travelling Exhibition: Sweden, Denmark, Norway, Finland
1986 - "Arts & Crafts Center", Dar-es-Salaam, Tanzania
1988 - Travelling Exhibition: London, Glasgow
1989 - "Arts & Crafts Center", Dar-es-Salaam, Tanzania

1992 - "Out of Africa" - Saatchi & Saatchi Gallery, London, UK

- "Tingatinga Art" - Art Tower Mito, Tokyo, Japan
1993 - "La Grande Vérité, Les Astres Africains" - Nantes Fine Art Museum, Nantes, France
1995 - "Haring K. and Lilanga" "Animals and Spirits of Africa - Pantheon Tama Gallery,Tokyo, Japan

- Mimoca Gallery, Marugane, Japan
- Johannesbourg 1st International Biennal, Johannesburg, South Africa

1996 - Dak'Art - Dakar 2nd Biennal, Dakar, Senegal
- Pyramid Hotel, Furth, Germany
1997 - Gallery Watatu, Nairobi, Kenya
1998 - Goethe Institute, Dar-es-Salaam
1999 - "African Contemporary Art" - Lenz Gallery of Art,Pregassona, Italy

- La Persia srl - Palazzo Carlotti, Verona, Italy

2000 - Shanghai Biennale 2000, Shanghai, China

- "Il ritorno dei Maghi" - Palazzo dei Sette, Orvieto, Italy

- Casino di Malindi, Kenya

- Deposito 6, Verona, Italy
2002 - "Mapico Dance" - MAMCO, Geneva, Switzerland

- "Georges Lilanga" Galleria Spazia, Bologna, Italy
2003 - "Latitudes " - Hôtel de Ville, Paris, France
2004 - "Africa Remix - Art contemporain d'un continent" - Museum Kunst Palast, Düsseldorf, Germany
2005 - "Africa Remix" - Hayward Gallery, London, UK
- "Arts of Africa " - Grimaldi Forum, Monaco, France

- "African Art Now : Masterpieces from the Jean Pigozzi Collection" - Museum of Fine Art Houston, Houston, USA
- "Africa Remix" - Centre Georges Pompidou, Paris, France

2006 - "Africa Remix" - Mori Art Museum, Tokyo, Japan

Author: Daniel Augusta