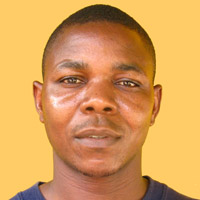 Iddi Issa
Iddi comes from the family of Hashim Bushiri Mruta, a big and recognized Tingatinga painter who passed away 1999. He was not only the grounder of Tinga Tinga Cooperative but he has also succeded to raise sufficient funds in Switzerland for the construction of Tinga Tinga Studio. (The building). Therefore despite his young age of 37 years Iddi is a very important person in the Cooperative. He has been in Mchuruka Village in Tunduru district and he came to Dar es Salaam to look for a job. Then he was introduced to Tingatinga by Rajabu Chiwaya, the father of Mwamedi Chiwaya. Now Iddi is living in Kinondoni with his wife and a newborn child Munira. He likes to use a bicycle as a transport means from and to the Cooperative.
Iddi was the only Tinga Tinga painter to reach the summit of Kilimanjaro
One day when I was sitting and painting at the Tinga Tinga cooperative a man sudenly came to me. He was a mzungu and his name was Paul Joynson-Hicks. He asked us several questions. Finally he told me. You will climb the mountain Kilimanjaro. It was in 1998 in November. We took airplane from Dar es Salaam to Moshi. Next day we went to Horombo. We slept there. The third day we came to Kibo hut which is directly under the top of the mountain. We slept there only 4 hours because we started our final trip to the top at 11 PM. We came to Uhuru hut at 7 AM. But not all of us reached there. Only three out of the 5 people succeeded. When we reached on the top, Paul took out a bottle of beer and started to open it as if it was at the marriage party. He said: "Now we establish officially the brand of Kibo Gold beer.