FLORIAN LUDOVICK KAIJA
Although Florian Ludovick Kaija has made his mark on the Tanzanian art scene, he still struggles daily to get the next meal for his daughter, wife and self. I visited him in his rented two rooms, tucked in a corner of Temeke District in Dar es Salaam Region. This is quite a long way from his place of birth in Bukoba District, north of the country in Kagera Region. He has been living in this run-down section of the commercial capital city since 2005, when he got married. Before this he was living with his older brother in the more affluent neighbouring Kinondoni District. This Fine Artist, the eight born in a family of nine siblings is very proud that four out of his six brothers, himself included, can draw.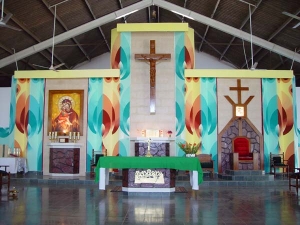 Had he not been influenced by three of them when he was a little boy, he might not have been producing such captivating paintings today. Five minutes looking at his spiritual or secular works is sufficient time to prove how beneficial this beginning was for the 37-year-old. Florian has some vague memory of his grandfather, who was a good drawer and the source of this artistic talent in the family. However, the young artist's father, a former civil servant, who moved from region to region with his family, didn't inherit this artistic ability. Neither did his mother, a housewife.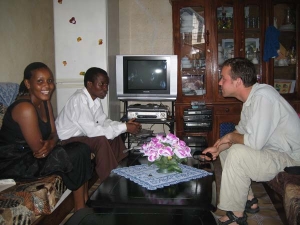 The habit of drawing goes back to Florian's primary school days. Then after completing his secondary schooling in 1991, he came to Dar es Salaam. Here he stayed with one of his elder brothers with the hope of continuing with his education.

"Seeing I was used to drawing, it just happen that I got involved in doing little art works here and there, until it came to the point that I realised there were opportunities here for me to gain from drawing," he says. By 1994, the idea of continuing with his formal education was completely forgotten. All his time became tied up with various art activities. He had started out at first with sign writing then met up with another local Fine Artist, Haji Chilonga, who introduced him to actual paintings.

Florian has always painted in the semi-abstract style. Before he painted in oil but now he uses acrylic and even more recently he has introduced a collage touch to some of his works.

In certain paintings he may use pieces of local patterned cloth called Kitenge which he attaches to various places on a particular painting. At times he would even paint over certain sections of this cloth, which brings a different texture and appearance to the overall painting.

Such ideas he says come from being exposed to modern mediums like the Internet. Making use of various other forms of presenting a painting gives the artist an edge over their rivals, he believes. The competition between artists in Tanzania is quite intense these days, as compared to when he started out in this line of work.

Towards the end of 1996, he went to Musoma District in Mara Region, to help one of his elder brothers with some paintings in a church there and a new era in his life began. This brother taught the church choir there and knowing of his younger brother's spiritual commitment thought he was ideal for such a task.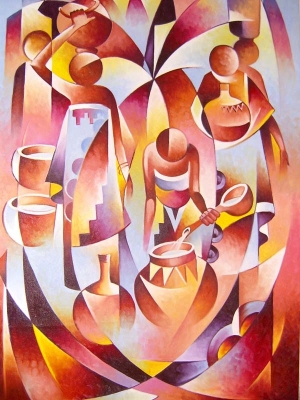 In remembrance of those days Florian tells me, "There was no way I could refuse, so I went and we worked on the paintings together in the mornings and when my brother was teaching the choir I would continue by myself."

He first went for three months then returned to Dar es Salaam for one month and went back to Musoma for another three months. For other subsequent projects, which followed he would stay for one or two months. The way of the cross, which consisted of 14 stations, was his first task, at the Shrine of the mercy of God in the Kiabakari Pilgrims Parish Church there.

Florian maintains that his spiritual teachings from childhood become extremely useful when handling such works. He also insists that there is no way he would have been able to fulfil the task had he not been brought up within the Catholic Church. The teachings he adheres to, even today, all come to the forefront and he has to spend much time meditating and planning so as to know how best to present certain scenes and happenings, as mentioned in the Bible.

These paintings have to be done in such a way so that the local people can relate to them. To date he is very proud of his achievements in the churches and the Musoma Cathedral. His paintings have become a familiar sight in and around a number of churches in the region.

The last time he was called for such a task was in 2006, when he went to complete a work he had started in a church's rosary garden before it was officially opened to the parishioners.

Florian does not think that the spiritual awakening he gets from working in churches is affected by his more earthly works. For he says, "All is work. I cannot deny that there has to be a spiritual dimension to the paintings for The Church but my other works are just another extension of the same man."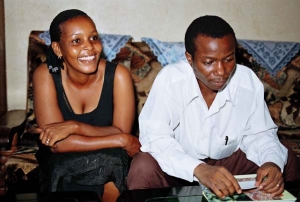 Photo by Ilona Bittnerova

He says his ambition is to become an internationally-known fine artist. Well, he has certainly made his name here at home. The two large paintings of his within the new parliament building in Dodoma Region is evidence of that. They depict the history of the Tanzanian economy. Needless to say the money he received for them did help in his domestic budget.

Notis:
Iman Mani is art journalist of the Tanzanian national newspaper Daily News and is freelancing for AFRUM.
©AFRUM&MANI

Author: Iman Mani