DAVID MZUGUNO PASSED AWAY
He complained about neck pains since March 2010. At the same time he went to Uganda to exhibit at International School of Uganda in Lubowa, which was organized by Pascal Bogaert. The name of the exhibition was: "The Last Living Master Tingatinga Painter of Tanzania".
When the pain in neck increased he went to seek a traditional healer in Tanzania, Tanga. At that time the neck swelled and the healer cut out a thing which he said was an "insect". Then Mzuguno returned to Uganda but there the things went worth. He was admited to International Hospital in Kampala were he underwent an operation. Later, he and his best friend decided to continue the treatment in Tanzania. He was flown to Dar es Salaam´s Muhimbili hospital where he passed away.
When I went to Kibaha today (7 June) to pass condolences to Mzuguno´s family members I thought also about the future of Mzuguno art. On 24th April Mzuguno told to Daily Monitor, an Ugandan newspaper: "I have also taught three of my children to do art and hopefully they will carry on with the business when I have left this world,"
But the strongest message Mzuguno left to us is about the direction of Tinga Tinga. Tinga Tinga is art which does not discriminate, art which may become symbol of peace. Mzuguno said: "The style is popular because of the message it expresses. The style calls for the preservation of the environment and culture. The message does not discriminate between race and age."
The citates were extracted from these links:
Earning a living from painting
the article was copied from www.tingatingastudio.com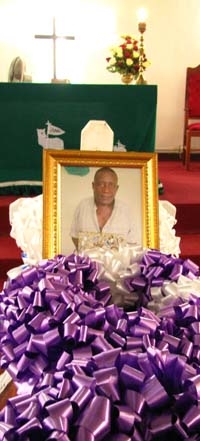 Author: Daniel Augusta