HOW A SOLDIER CHANGED TO AN ARTIST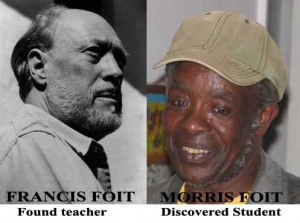 I continued learning with Foit for three years; then I began to get bored with art and told him I was leaving to be employed as a soldier. He found me at the college and when he saw my short hair cut he turned away as if he were going to cry. He told me that I should have asked for the gun that was at his home to learn how to use it. He told me that when I retired from being a soldier I should go back to what he had taught me. But my main aim of joining the arm was to help my younger brother who hadnít gone to school. When I completed my college I was posted from camp to camp where I worked for 14 years. When my younger brother completed his education I retired from the arm and went back home; by that time I was already married with two kids.
One day when I was still sleeping I saw Foit in my dream, and he was asking if I still knew how to do what he taught me. I told my wife about the dream, but she didnít understand. Another night Foit appeared in my dream, and again told her about it. I asked her to give me the long she used to cut Napier grass for cows, and she agreed. With that long I made a sculpture for the first time in 14 years. I took to Gallery Watatu in Nairobi and two weeks later it was sold.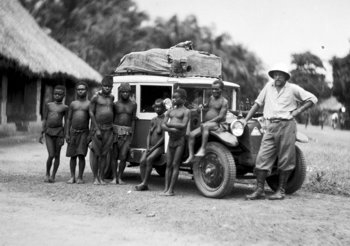 1931 - J. Baum together with sculptor F. V. Foit crossed Africa from north to south in Tatra 12 (14 HP). During whole journy, their car experienced no malfunction. (The picture is from www.transtrabant.cz)

With the money I bought tools and continued doing art work. I used deadwood and if I saw people burning charcoal, I would ask them to sell me the logs to save them from being turned into charcoal or ash. In this way the sculptures can live a long time. I also use stone or clay. My work reflects African culture, and I am proud because although I was by a white person ,my style isnít western at all. It is all about African style ,which concerns animals and people. I have done workshop in African countries like Uganda and Botswana as well as in Kenya. Outside Africa I have been to the United States in 2004 at the Carving Studio and Sculpture Centre in Rutland, Vermont and at the Vermont Studio Centre in 2005.
This article was first published by RaMoMa gallery in Nairobi and AFRUM thanks very much the it may publish it on its webpage
Author: Morris Foit